The White Boys
URGENT! owner going into assisted living. Family is taking 2 of the 4, but these are loving kitties that need a new family, not to be stuck in a back room. Very sad. They may be up to 10 yrs old. PLEASE HAVE A HEART! Per family member: "They are probably close to ten years old and have never been outside. They are very sweet cats and I'd like to see them out their lives with the attention they crave." Tortie female also available.
Forever return policy, fee waived, free vet exam coupon.
Call/text Marla at 251-404-0022 or email marla@adopt-a-kitty.org
ADOPT-A-KITTY.ORG
Lady
is a sweet 10yr old spayed white and gray cat. Very sweet. Chipped and vaccinated. A070956
Her adoption fee of $50 will cover her transport from LA to Mobile AL or nearby surrounding area.
Call/text Marla at 251-404-0022 or email: marla@adopt-a-kitty.org ADOPT-A-KITTY.ORG
Patches,
and I'm a 9-year-old male domestic long hair. My best friend, Oscar, and I were adopted several years ago but were recently returned because our adopter had a baby and no longer wanted us. We're now on the lookout for our forever home, where we'll never been given up again. I'm an affectionate boy, but I'm not fond of the little ones, so I'll need a home without children. I'm also declawed on all four paws, and I'm on a special diet for urinary tract infections. Because Oscar and I have been together so long, we must be adopted together. Do you have room in your heart and home for us?
Please email hopeforanimals@bellsouth.net."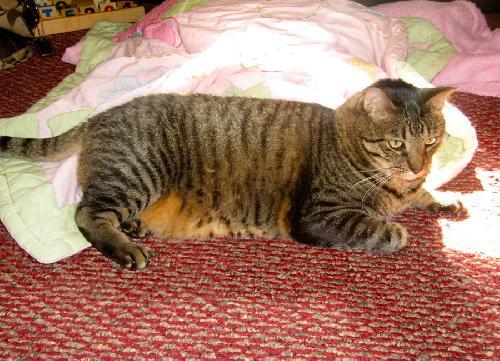 Oscar
10 Reasons Senior Cats Rule
When senior cats are adopted, they seem to understand that they've been rescued, and are all the more thankful for it.
A senior cat's personality has already developed, so you'll know if he or she is a good fit for your family.
You can teach an old cat new tricks (I do every day with my own cats!): Senior cats have the attention span and impulse control that makes them easier to train than their youthful counterparts.
A senior cat may very well already know basic household etiquette (like not attacking your feet at night) anyway!
In particular, senior cats are often already litter trained and are less likely to "forget" where the box is.
A senior cat won't grow any larger, so you'll know exactly how much cat you're getting.
Senior cats are often content to just relax in your company, unlike younger cats, who may get into mischief because they're bored.
Speaking of relaxing, senior cats make great napping buddies.
Senior cats often know that scratching posts (not furniture) are for scratching and toys (not hands or feet) are for biting.
Senior cats are some of the hardest to find homes for — so when you adopt a senior cat, you're truly saving a life.