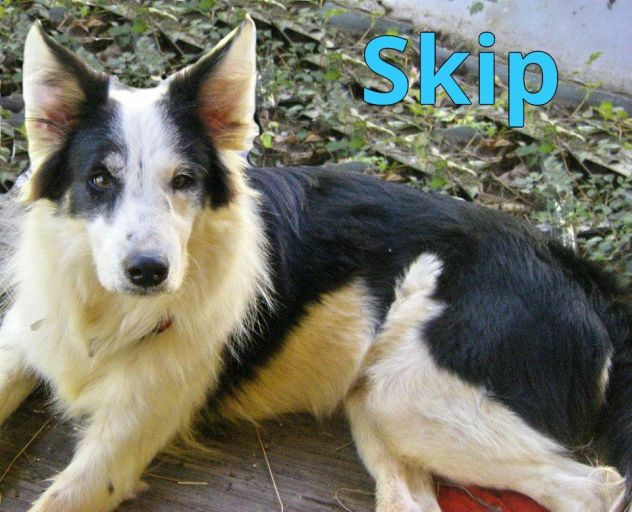 Skip
is a vibrant young black and white Border Collie approximately eight to nine months old and weighs about 40 lbs. He probably won't get much bigger than around 50 lbs He has great house manners and has done very well with potty training (only a couple of accidents since being in foster care). This baby boy loves to play but instinctively knows boundaries depending on who or what he plays with. He won over the trust of a five year old afraid of dogs by way of gentle and considerate play antics. When the little tyke was afraid to pick up a ball and throw it, Skip gently rolled the ball towards him with his paw and showed him it was okay. Border Collies are natural herders. With no sheep or cattle to herd, Skip has apparently decided it is his duty to herd the resident cats (a bit to their dismay but all in good fun and no harm intended or extended to anyone). Although this sweet little boy has lots of energy to go around, he has no problem settling in and laying quietly when play time is over. His foster mom found it entertaining that he immediately laid claim to his crate and enjoys playing and snoozing in it especially when his person is nearby. Skip does very well on leash and his leash manners are such that a child can easily work with him. This beautiful pup loves playing with his foster sibling but is equally adept at entertaining himself. Skip is a quick study and eager to learn and please. He has learned basic commands such as sit, down, leave it, and off. Border Collies are a very intelligent breed and this handsome boy is no exception. Skip is already neutered, up to date on all of his vaccinations and current on all of his preventatives. This bundle of joy is waiting for a family to love him for ever. He's the kind of dog who will always be there for you, loving, loyal and always grateful.
If interested in meeting this sweet boy, send an email to
friendsofjcas@gmail.com
. $100.00 adoption fee covers neuter, vaccinations, wormers and preventatives.
You can help save a life like Skip's by fostering an animal from JCAS. If interested in fostering, contact Kelly at
fosterforfriends@gmail.com
If you would like to donate to help us help the foster parents with food, medications and preventatives you can paypal us at
fjcasp@gmail.com
WE ARE NOW 501(c)3, nonprofit
and all of your donations are tax deductible!!