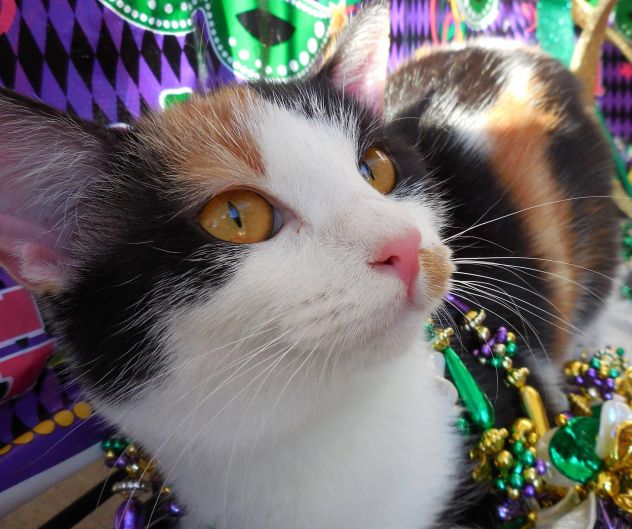 The lovely Vanna is looking for a home to celebrate Mardi Gra in.
Vanna has plenty of Mardi Gras beads & trinkets, she just needs a home to put them in. She's has changed the purple, green, gold color scheme to white, black, orange. Vanna is 6-months old & full of energy. You could be her perfect rubbing post. Come see her & hold her at Petsense in Biloxi today for the Valentine Pet Portrait day. Or, e-mail
friendsofjcasp@gmail.com
for more on Vanna.
If interested in meeting Vanna, send an email to
friendsofjcas@gmail.com
for an application. 50.00 adoption fee covers spay/neuter, vaccinations, wormers and preventatives
You can help save a life like Vanna's by fostering an animal from JCAS. If interested in fostering, contact Kelly at
fosterforfriends@gmail.com
If you would like to donate to help us help the foster parents with food, medications and preventatives you can paypal us at
fjcasp@gmail.com
WE ARE NOW 501(c)3, nonprofit and all of your donations are tax deductible!!
Poor Princess lost her home when she got pregnant. She is spayed now so, no more baby worries for her.
Princess is a Norweigan Elk Hound mix. She is 2 years old. She was surrendered to the Shelter because she was pregnant. Now that all the baby business is over with she is looking for a home that will love her always no matter what happens! She gets along well with other dogs and cats. She does well with kids. If you think you can love Princess forever please email us at
apeaadoptions@aol.com
.